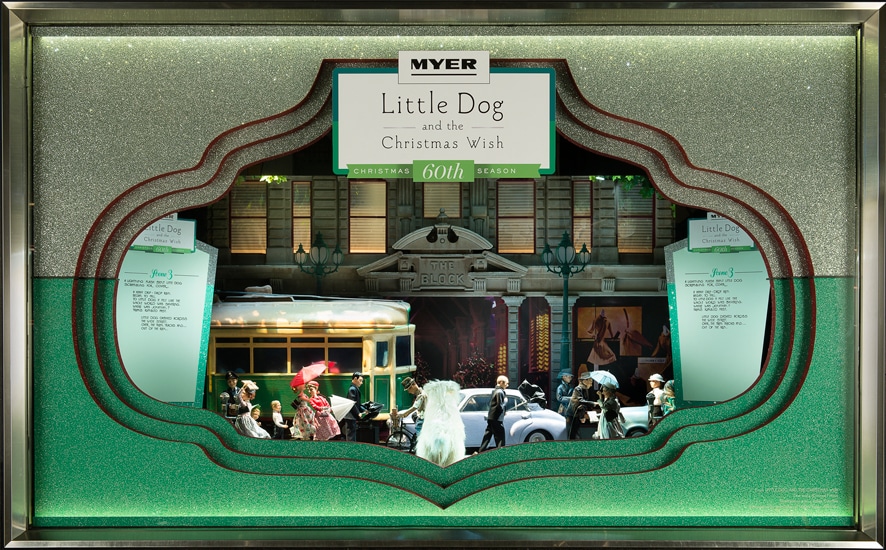 In 2015, The Block Arcade was featured in the world-renowned Myer Christmas Windows.
The Myer Melbourne Animated Christmas windows, the Windows, marks the beginning of Christmas festivities for the City of Melbourne each year. Ongoing since 1956, 2015 marked the retailers 60th anniversary of gifting the Windows to its patrons and the public – local, national and international – alike.
We were fortunate that the 2015 Windows theme was adapted from the picture book, Little Dog and the Christmas Wish' by local talents author Corinne Fenton and illustrator Robin Cowcher. The story takes the main character, Little Dog, through our city crossing Collins St and into our heritage-listed building, and resting outside our immaculately-maintained, 19-century charmer, the Hopetoun Tea Rooms. These images were re-created into spectacular 3D dioramas by long-time designer of the Windows John Kerr, founder of Melbourne-based, Stage ONE.
I, along with Kelly and Kon of the Tea Rooms, were astounded by the degree of micro detail that went into the creating the replicas. The final execution was extremely impressive. We are still revelling in the excitement of this rare opportunity and overwhelmed by the excitement at large.


'And we know that these windows will be will be remembered for decades to come. We're glad to say that well facilitate this cause by hosting some of the Windows characters in our new tea rooms due to be unveiled later this year.
Here we share with you Window 3, The Block Arcade façade on Collins St, and Window 4 our interior walkway and the Hopetoun Tea Rooms from the set of 6 windows, and a few production images.
– Grant Cohen, Manager The Block Arcade
Behind the Scenes