It happens every year. Summer comes and embraces us with her warmth, offering us the excitement and novelty of outdoor bars, days by the beach and those oh so late sunsets. We get lost in the festivity of December, the newness of January and the romance of February. Winter seems so far away – we forget that there's a time that exists where we need multiple layers, closed in shoes and… an umbrella.
Now that the weather forecast is looking a little showery, we are reminded that summer is only with us for a time and that the need for an umbrella is a reality. It's only May and we have plenty of time to prepare for the cooler months – we've done it before and we'll do it again. To help you get ready, we've rounded up the five staples you need to invest in before winter officially begins next month!
Boots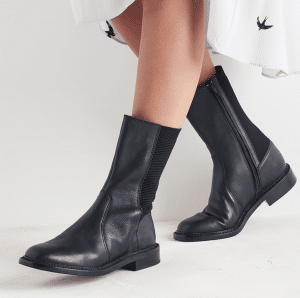 Our weather can be unforgiving – when it rains it really does pour. A good pair of boots will let you put your best foot forward this winter. At Camper you can be reassured that your feet will stay dry – no need to worry about puddles or leaks in a pair of their ankle boots thanks to their waterproof protection in a super lightweight design.
Next door at Wittner shoes, you're spoilt for choice with versatile and classic styles to put the finishing touch on their winter style. Their premium quality leather and double padded souls mean that a winter in a pair of Wittner boots will be a warm and comfortable one.
Skincare
Bracing the harsh winds and coming in and out of heating can be stressful for our skin. It's important to keep it well hydrated throughout the winter to keep it from drying out or feeling sensitive. Essensorie has the beautiful Mimosa and Chamomile Face Cream, formulated with rich botanicals and antioxidant protection of mimosa and chamomile to protect, heal and hydrate the skin. At L'Occitane, you can keep your lips hydrated and chap-free with their Shea Ultra Rich Lip Balm, the buttery texture is sure to protect your lips from harsh weather.
Scarfs & Blankets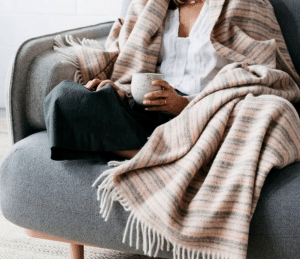 For extraordinarily warm and unbelievably soft, Sol Alpaca have 100% baby alpaca woollen scarves and shawls that are just so beautiful – rugging up can stay elegant with one of their many options. Creswick is the go-to for soft, luscious, warm blankets to rug up with and stay toasty this winter – keep one at the office and one at home!
Jackets & Coats
Roxanne Fashion is known for having styles for every season and with their winter collections in store now, picking out new winter threads will be a breeze.
You will also find quite the selection of soft, warm alpaca wool coats and jackets at The Alpaca Collection.
Warm drinks
Keep your office kitchen stocked up with delicious spiced and oriental teas from Gewürzhaus. Their China Jasmine Green Tea is high in anti-oxidants and a healthier alternative to coffee, a perfect new ritual to get you in the right office mindset and ease out of the manic morning commute.
You'll be the flavour of the moment in the office, when your co-workers discover the deliciousness of the Gewürzhaus teas.